The blog contained a description of his "likes", which included: "Blood, pain…rain, darkness, thunder…fire, my room, sex…graveyards , knives".
Content of the article
Just before a murder trial was blown up in 2005, my colleagues at the National Post had tense discussions about whether and when to publish a child witness diary.
Content of the article
I had just discovered a shocking collection of evidence on the internet, including this girl's blog and various profiles, which offered exclusive outrageous details about her as a central witness against three teenagers, including her ex-boyfriend. The three boys have been charged with the horrific stabbing murder of the apparent ringleader's 12-year-old younger brother, and also with attempting to kill his stepfather.
No one seemed to be aware of this girl's online presence except me. Outrageously, it turned out that no one did. In the newsroom, our first inclination was to publish immediately, before the end of the trial. But the more I thought about it, the longer I wanted to wait.
The trial was coming to an end. Partly, I wanted to see what else might appear on his blog. But above all I was afraid of offending the justice process, of stepping out of line as a reporter, a simple observer. In hindsight, this seems twisted, because the trial was already condemned by perjury, still unknown to everyone, including me. In a few days, we would all see that no conviction based on this testimony can be trusted, no matter how obvious. If the girl hasn't perjured herself, the judge joked, she's "close enough for government work." At the time, however, every reporter in the press kit agreed that this jury, based on the lies we all heard in open court, was about to convict the three teenagers charged with first-degree murder.
Content of the article
History shows how close this came to a wrongful conviction.
At the news desk, my editor and I debated when to publish. My hesitation prevailed. As I say on this episode of a new podcast series, True Crime Byline, "I just said, listen, if we release the fact that the star witness is a vampire before the jury begins to deliberate and while 'they're still reading the newspaper, we're in contempt of court, and that's not only morally and legally wrong, it scares me.
Below is the beginning of this story. It aired the first morning after the jury sequestration, over two pages in the National Post, with a sketch by Kagan McLeod of three accused teenage murderers, seen from behind to preserve their anonymity. That night, after reading it and just in time to make the nine o'clock news, the judge declared a shocking mistrial.
Content of the article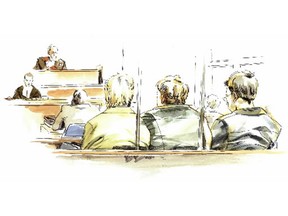 "We are planning something big"
Throughout Johnathan's murder trial, the crown's star witness – a 16-year-old girl in grade 11 at a Toronto art school – kept an online diary of her thoughts on the case, her own damning testimony, the "hilarious bulls" of her former boyfriend…t" on the witness stand, and her difficult cross-examination by her attorney, David McCaskill, that she mocks "Mr. Bigaskill.
He 'was such a prick,' the witness wrote on January 24, her last day on the witness stand, when Mr McCaskill claimed she had a sexual interest in vampirism and was turned on by the bragging of her ex-boyfriend about killing people. "I wanted to slap him so hard."
His other entries on the case, dating from before the preliminary hearing last April, are equally candid and somewhat at odds with his poised demeanor before the jury. Likewise, her writing on another website, aimed at vampire enthusiasts, cast doubt on her assertion — important to the prosecution's case — that she viewed her former boyfriend's blood fetish as childish.
Content of the article
His journal entry for February 1, for example, begins: "Another day at court. It was a lot more fun today because the crown attorney got caught up (her former boyfriend, one of three boys charged with first degree murder) in a whole web of lies. He almost had a panic attack. It was like a car accident, terrible but you couldn't look away. You almost had to feel sorry for him…. Nope."
If a curious juror had typed the girl's Internet nickname (it's been the subject of many testimonies and arguments) into a search engine, they would have found this diary, along with her photo and date of birth. Across several thousand words, its dominant themes are impatience and boredom, with enough honesty, grief, wit and triviality to keep it alive. It was deleted from the internet last weekend.
Content of the article
They would also have found the web page of vampire lovers, whose personal profile and photos of the girl were deleted last spring, before the preliminary investigation. The page contained a description of his "likes", which included: "Blood, pain, girls, guys, my school…. Yeah… Hating people… my cat, 3 of my friends, rain, the darkness, the thunder… the fire, my room, the sex… Despite my stop, I like drugs… the cemeteries, the knives, the beaches, the music. I live for the music…"
Under "I don't like," she included "Three guys who are holes and I have to testify against…. And the courtrooms.
It is difficult to say what effect, if any, these writings would have had on a juror's feelings about the credibility of a witness.
But even if each juror read both the diary and the profile, it would only add a wrinkle to the Solomonic dilemma they face.
Content of the article
Was 12-year-old Johnathan killed by three boys on a killer lark, each so wild and reckless that they brag about their plan to this girl, who was secretly recording them? Or was that phone call just a tasteless prank, designed to excite his bloodlust, and did Johnathan really die when his older brother, ignored and isolated in his own family, finally and brutally called for help? 'assistance ?
Download Episode 2, The Story That Blew A Murder Trial, today on your favorite podcast app to find out what happened.
Our episodes drop every Thursday until July 28th.
#distro